3 Card Spread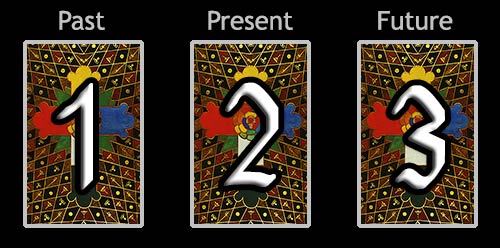 Difficulty: Very easy
This simplistic chronological spread can be used to shed light on the influences that are now behind you, current influences, and what is approaching in the near future. Not much explanation is necessary on this one.
Your 3 Card Reading
The Past

4 of Swords
The Present

10 of Cups
The Future

The Star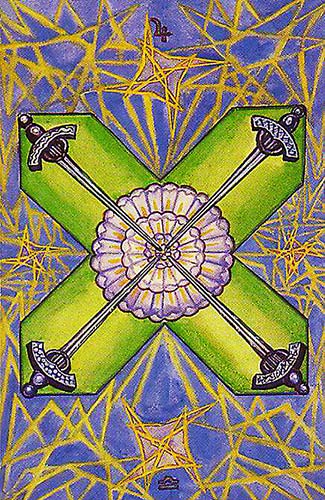 The Past

4 of Swords

Jupiter in Libra - Truce

Chesed refers to Jupiter who rules in Libra in this decanate. The sum of these symbols is therefore without opposition; hence the card proclaims the idea of authority in the intellectual world. It is the establishment of dogma, and law concerning it. It represents a refuge from mental chaos, chosen in an arbitrary manner. It argues for convention.

The hilts of the four Swords are at the corner of a St. Andrew's cross. Their shape suggests fixation and rigidity. Their points are sheathed -- in a rather large rose of forty-nine petals representing social harmony. Here, too, is compromise.

Minds too indolent or too cowardly to think out their own problems hail joyfully this policy of appeasement. As always, the Four is the term; as in this case there is no true justification for repose, its disturbance by the Five holds no promise of advance; its static shams go pell-mell into the melting-pot; the issue is mere mess, usually signalized by foetid stench. But it has to be done!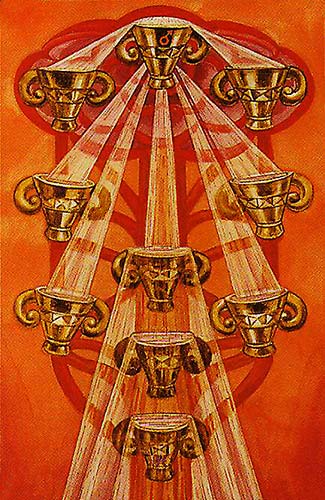 The Present

10 of Cups

Mars in Pisces - Satiety

This card represents a conflicting element. On the one hand, it receives the influence of the Ten, Malkah the Virgin. The arrangement of the cups is that of the Tree of Life. But, on the other hand, they are themselves unstable. They are tilted; they spill the water from the great Lotus which overhangs the whole system from one into the other. The work proper to water is complete: and disturbance is due.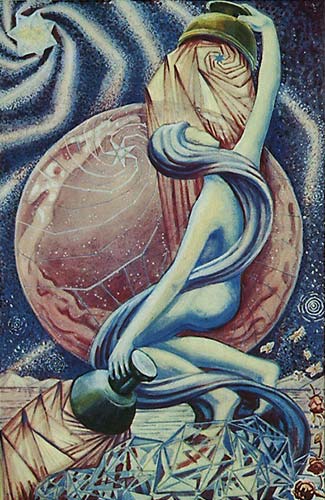 The Future

The Star

Aquarius

Use all thine energy to rule thy thought: burn up thy thought as the Phoenix.

Hope, unexpected help, clearness of vision, realization of possibilities, spiritual insight, with bad aspects, error of judgment, dreaminess, disappointment.