3 Card Spread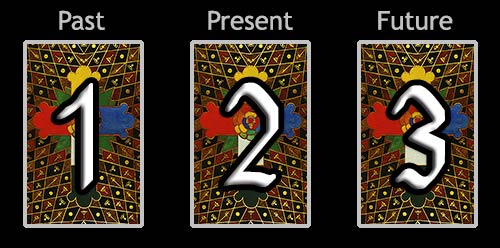 Difficulty: Very easy
This simplistic chronological spread can be used to shed light on the influences that are now behind you, current influences, and what is approaching in the near future. Not much explanation is necessary on this one.
Your 3 Card Reading
The Past

The Magus
The Present

Knight of Disks
The Future

8 of Disks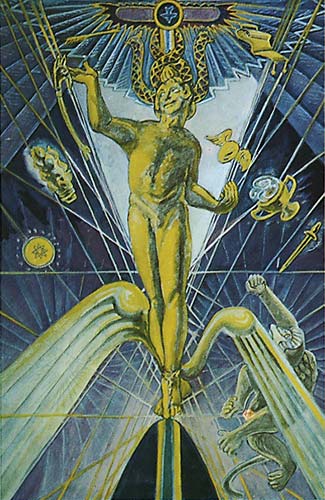 The Past

The Magus

Mercury

The True Self is the meaning of the True Will: know Thyself through Thy Way. Calculate well the Formula of Thy Way. Create freely; absorb joyously; divide intently; consolidate completely. Work thou, Omnipotent, Omniscient, Omni present, in and for Eternity.

Skill, wisdom, adroitness, elasticity, craft, cunning, deceit, theft. Sometimes occult wisdom or power, sometimes a quick impulse, a brain-wave. It may imply messages, business transactions, the interference of learning or intelligence with the matter in hand.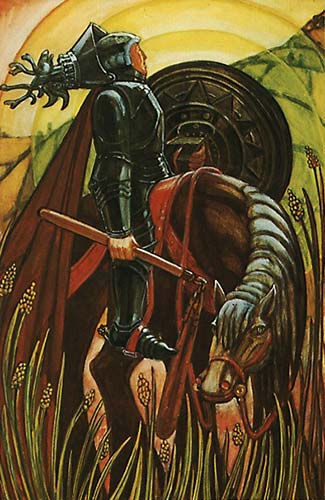 The Present

Knight of Disks

Virgo

The Knight of Disks represents the fiery part of Earth, and refers in particular to the phenomena of mountains, earthquakes, and gravitation; but it also represents the activity of Earth regarded as the producer of Life. This warrior is short and sturdy in type. He rides through the fertile land; even the distant hills are cultivated fields.

Those whom he symbolises tend to be dull, heavy and pre-occupied with material things. They are laborious and patient, but would have little intellectual grasp even of matters which concern them most closely. Their success in these is due to instinct, to imitation of Nature. They lack initiative; their fire is the smouldering fire of the process of growth.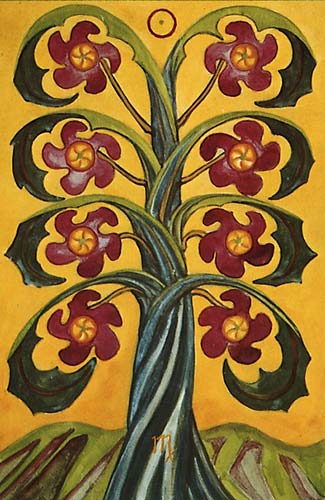 The Future

8 of Disks

Sun in Virgo – Prudence

The number Eight, Hod, is very helpful in this card, because it represents Mercury in his most spiritual aspect, and he both rules and is exalted in the sign of Virgo, which belongs to the Decan, and is governed by the Sun. It signifies intelligence lovingly applied to material matters, especially those of the agriculturalist, the artificer and the engineer.

One might suggest that this card marks the turn of the tide. The seven of Disks is in one sense the fullest possible establishment of Matter – compare Atu XV – the lowest fallen and therefore the highest exalted. These last three cards seem to prepare the explosion which will renew the whole Cycle. Note that Virgo is Yod, the secret seed of Life, and also the Virgin Earth awaiting the Phallic Plough.

The interest of this card is the interest of the common people. The rulership of the Sun in Virgo suggests also birth. The disks are arranged in the form of the geomantic figure Populus. These disks may be represented as the flowers or fruits of a great tree, its solid roots in fertile land.