3 Card Spread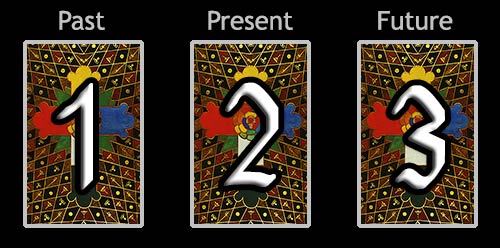 Difficulty: Very easy
This simplistic chronological spread can be used to shed light on the influences that are now behind you, current influences, and what is approaching in the near future. Not much explanation is necessary on this one.
Your 3 Card Reading
The Past

Knight of Swords
The Present

Queen of Disks
The Future

2 of Swords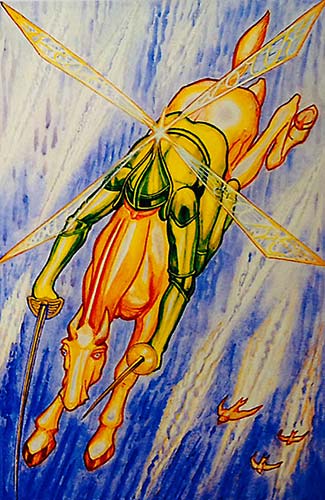 The Past

Knight of Swords

Gemini

The Knight of Swords represents the fiery part of Air; he is the wind, the storm. He represents the violent power of motion applied to an apparently manageable element. He is a warrior helmed, and for his crest he bears a revolving wing. Mounted upon a maddened steed, he drives down the Heavens, the Spirit of the Tempest. In one hand is a sword, in the other a poniard. He represents the idea of attack.

The moral qualities of a person thus indicated are activity and skill, subtlety and cleverness. He is fierce, delicate and courageous, but altogether the prey of his idea, which comes to him as an inspiration without reflection.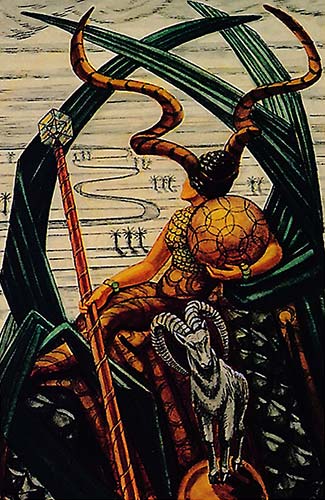 The Present

Queen of Disks

Capricorn

The Queen of Disks represents the watery part of Earth, the function of that element as Mother. She represents passivity, usually in its highest aspect. The Queen of Disks is throned upon the life of vegetation. She contemplates the background, where a calm river winds through a sandy desert to bring to it fertility. Oases are beginning to shew themselves amid the wastes. Before her stands a goat upon a sphere. There is here a reference to the dogma that the Great Work is fertility. She thus represents the ambition of matter to take part in the great work of Creation.

Persons signified by this card possess the finest of the quieter qualities. They are ambitious, but only in useful directions. They possess immense funds of affection, kindness, and greatness of heart. They are not intellectual, and not particularly intelligent; but instinct and intuition are more than adequate for their needs. These people are quiet, hard-working, practical, sensible, domesticated, often (in a reticent and unassuming fashion) lustful and even debauched. They are inclined to the abuse of alcohol and of drugs. It is as if they could only realize their essential happiness by getting outside themselves.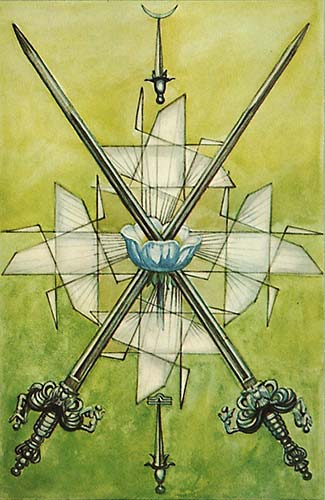 The Future

2 of Swords

Moon in Libra - Peace

The Moon is change, but Nature is peaceful; moreover, Libra represents balance; between them, they regulate the energy of the Swords.

In the card appear two swords crossed; they are united by a blue rose with five petals. This rose represents the influence of the Mother, whose harmonizing influence compounds the latent antagonism native to the suit. The Rose emits white rays, producing a geometrical pattern that emphasizes the equilibrium of the symbol.