Three-Card Spread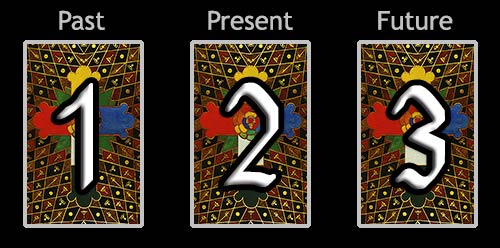 Difficulty: Very easy
This simplistic chronological spread can be used to shed light on the influences that have passed, current influences, and what is approaching in the near future. Not much explanation is necessary for this simple tarot spread.
Your Three-Card Reading
The Past

5 of Swords
The Present

8 of Cups
The Future

Princess of Wands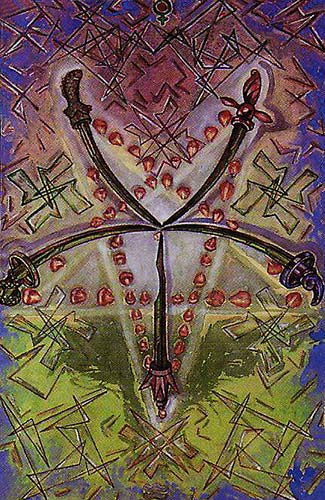 The Past

5 of Swords

Venus in Aquarius – Defeat

The intellect has been enfeebled by sentiment. The defeat is due to pacifism. Treachery also may be implied.

The hilts of the swords form the inverted pentagram, always a symbol of somewhat sinister tendency. Here matters are even worse; none of the hilts resembles any of the others, and their blades are crooked or broken. They give the impression of drooping; only the lowest of the swords points upwards, and this is the least effective of the weapons. The rose of the previous card has been altogether disintegrated.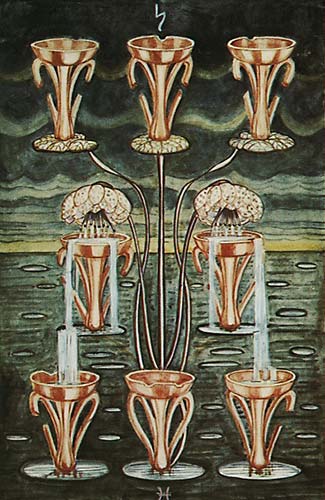 The Present

8 of Cups

Saturn in Pisces – Indolence

Lotuses droop for lack of sun and rain, and the soil is poison to them; only two of the stems show blossoms at all. The cups are shallow, old and broken. They are arranged in three rows; of these the upper row of three is quite empty. Water trickles from the two flowers into the two central cups, and they drip into the two lowest without filling them. The background of the card shows pools, or lagoons, in very extensive country, incapable of cultivation; only disease and miasma tic poison can flourish in those vast Bad Lands. The water is dark and muddy. On the horizon is a pallid, yellowish light, weighed down by leaden clouds of indigo.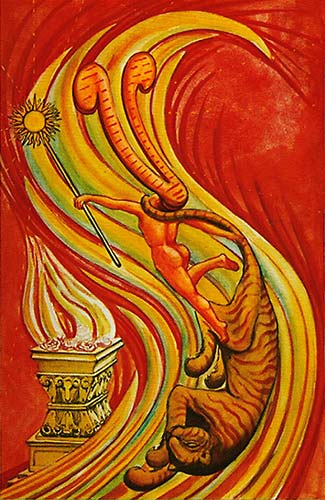 The Future

Princess of Wands

The Princess of Wands represents the earthy part of Fire; one might say, she is the fuel of Fire. This expression implies the irresistible chemical attraction of the combustible substance. The Princess is therefore shewn with the plumes of justice streaming like flames from her brow; and she is unclothed, shewing that chemical action can only take place when the element is perfectly free to combine with its partner.

This card may be said to represent the dance of the virgin priestess of the Lords of Fire, for she is in attendance upon the golden altar ornamented with rams' heads) symbolising the fires of Spring. The character of the Princess is extremely individual. She is brilliant and daring. She creates her own beauty by her essential vigour and energy. The force of her character imposes the impression of beauty upon the beholder. In anger or love she is sudden, violent, and implacable. She consumes all that comes into her sphere. She is ambitious and aspiring, full of enthusiasm which is often irrational. She never forgets an injury, and the only quality of patience to be found in her is the patience with which she lies in ambush to avenge.