3 Card Spread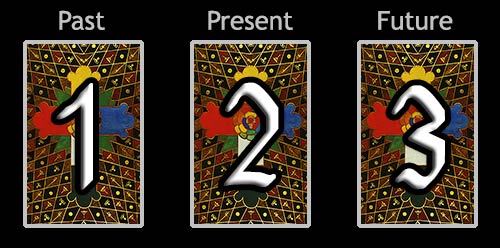 Difficulty: Very easy
This simplistic chronological spread can be used to shed light on the influences that are now behind you, current influences, and what is approaching in the near future. Not much explanation is necessary on this one.
Your 3 Card Reading
The Past

The Emperor
The Present

3 of Wands
The Future

The Sun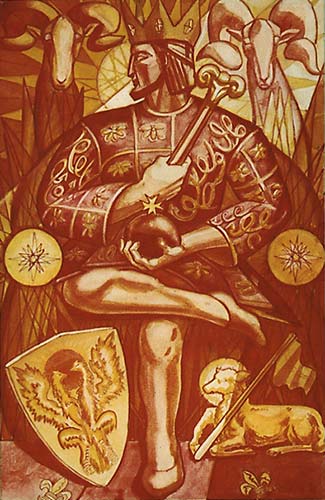 The Past

The Emperor

Aries

Pour water on thyself thus shalt thou be a Fountain to the Universe. Find thou thyself in every Star. Achieve thou every possibility.

War, conquest, victory, strife, ambition, originality, over-weening confidence and megalomania, quarrelsomeness, energy, vigour, stubbornness, impracticability, rashness, ill- temper.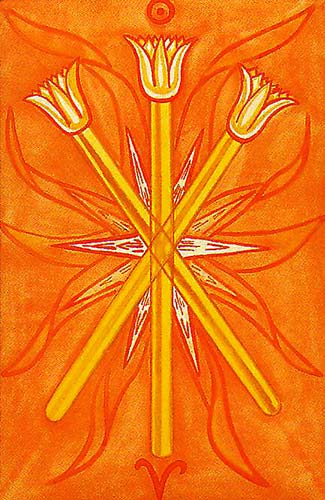 The Present

3 of Wands

Sun in Aries - Virtue

This card refers to Binah in the suit of Fire, and so represents the establishment of primeval Energy. The Will has been trans mitted to the Mother, who conceives, prepares, and gives birth to, its manifestation. It refers to the Sun in Aries, the Sign in which he is exalted.

The meaning is harmonious, for this is the beginning of Spring. For this reason one sees the wand taking the form of the Lotus in blossom. The Sun has enkindled the Great Mother.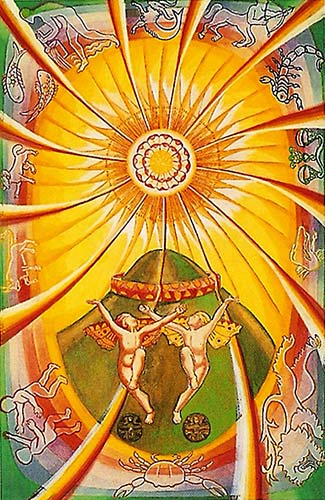 The Future

The Sun

The Sun

Give forth thy light to all without doubt; the clouds and shadows are no matter for thee. Make Speech and Silence, Energy and Stillness, twin forms of thy play.

Glory, gain, riches, triumph, pleasure, frankness, truth, shame-lessness, arrogance, vanity, manifestation, recovery from sickness, but sometimes sudden death.