Decision Spread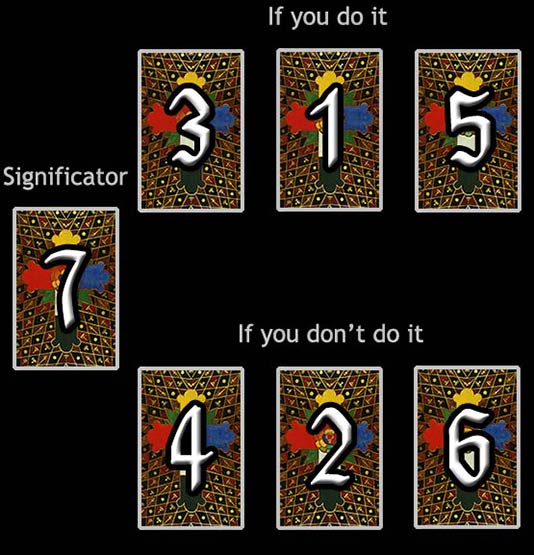 Difficulty: Easy
This simple but highly useful spread calls for a question to be asked in this format:
'What happens if I do (X), and what happens if I do not do (X)?'
Please note that it should not be viewed as a decision between two different options, but about whether a single option should be exercised or not. A second option would call for a separate reading.
Card #7 is the significator, the overall theme of the query.
Cards #3, #1, & #5 represent the chronological sequence of events that occurs if the reader chooses to do (X).
Cards #4, #2, & #6 represent the chronological sequence of events that unfolds if the reader chooses not to do (X).
Your Decision Reading
The Significator

9 of Disks
Outcome if you do it:

7 of Wands

Death

Prince of Disks
Outcome if you don't do it:

Princess of Wands

The Aeon

Prince of Wands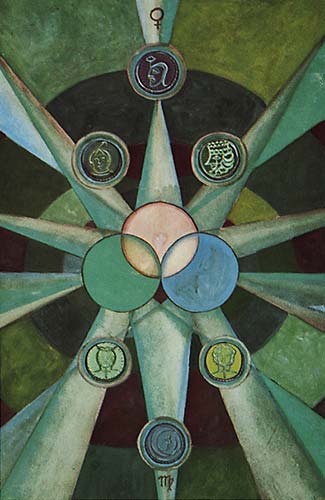 9 of Disks

Venus in Virgo – Gain

The number Nine, Yesod, inevitably brings back the balance of Force in fulfilment. The card is ruled by Venus in Virgo. It shows good luck attending material affairs, favour and popularity.

The disks are arranged as an equilateral triangle of three, apex upwards, close together; and, surrounded at some distance by a ring, six larger disks in the form of a hexagon. This signifies the multiplication of the original established Word-by the mingling of 'good luck and good management'. The three central disks are of the magical pattern as in earlier cards; but the others, since the descent into matter implies the gradual exhaustion of the original whirling energy, now take on the form of coins. These may be marked with the magical images of the appropriate planets.

Outcome if you do it: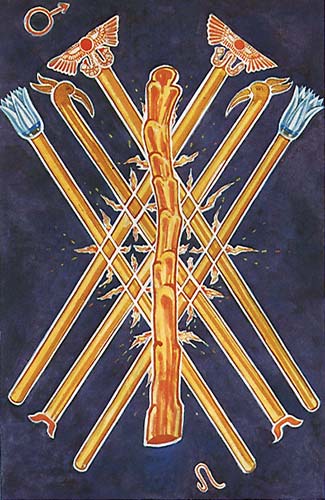 7 of Wands

Mars in Leo – Valour

This card derives from Netzach (Victory) in the suit of Fire. But the Seven is a weak, earthy, feminine number as regards the Tree of Life, and represents a departure from the balance so low down on the Tree that this implies a loss of confidence.

Fortunately, the card is also attributed to Mars in Leo. The army has been thrown into disorder; if victory is to be won, it will be by dint of individual valour – a 'soldiers' battle'.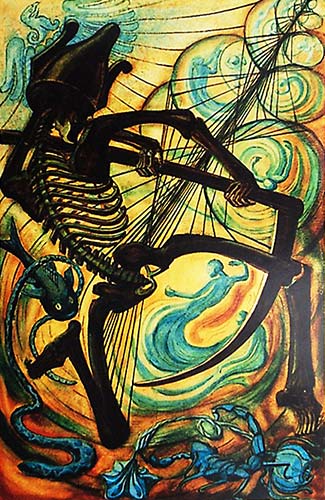 Death

Scorpio

The Universe is Change; every Change is the effect of an Act of Love; all Acts of Love contain Pure Joy. Die daily. Death is the apex of one curve of the snake Life: behold all Opposites as necessary complements, and rejoice.

Transformation, change, voluntary or involuntary, in either case logical development of existing conditions, yet perhaps sudden and unexpected. Apparent death or destruction, but such interpretation is illusion.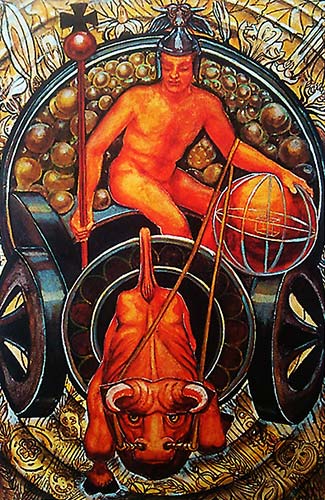 Prince of Disks

Taurus

The Prince of Disks represents the airy part of Earth, indicating the florescence and fructification of that element. The figure of this Prince is meditative. He is the element of Earth become intelligible. In his left hand he holds his disk, which is an orb resembling a globe, marked with mathematical symbols as if to imply the planning involved in agriculture. In his right hand he bears an orbed sceptre surmounted by a cross, a symbol of the Great Work accomplished.

A steadfast and per severing worker, he is competent, ingenious, thoughtful, cautious, trustworthy, imperturbable. He constantly seeks new uses for common things, and adapts his circumstances to his purposes in a slow, steady, well-thought-out plan. He is lacking almost entirely in emotion. He is somewhat insensitive, and may appear dull, but he is not; it so appears because he makes no effort to understand ideas which are beyond his scope. He may often appear stupid, and is inclined to be resentful of more spiritual types. He is slow to anger, but, if driven, becomes implacable.

Outcome if you do not do it: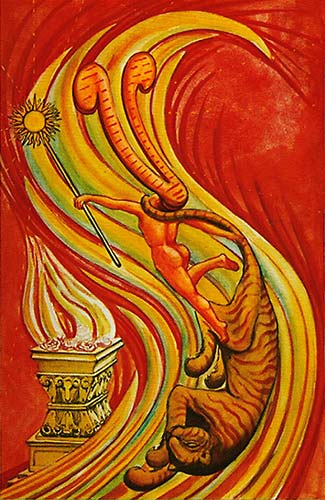 not1card

The Princess of Wands represents the earthy part of Fire; one might say, she is the fuel of Fire. This expression implies the irresistible chemical attraction of the combustible substance. The Princess is therefore shewn with the plumes of justice streaming like flames from her brow; and she is unclothed, shewing that chemical action can only take place when the element is perfectly free to combine with its partner.

This card may be said to represent the dance of the virgin priestess of the Lords of Fire, for she is in attendance upon the golden altar ornamented with rams' heads) symbolising the fires of Spring. The character of the Princess is extremely individual. She is brilliant and daring. She creates her own beauty by her essential vigour and energy. The force of her character imposes the impression of beauty upon the beholder. In anger or love she is sudden, violent, and implacable. She consumes all that comes into her sphere. She is ambitious and aspiring, full of enthusiasm which is often irrational. She never forgets an injury, and the only quality of patience to be found in her is the patience with which she lies in ambush to avenge.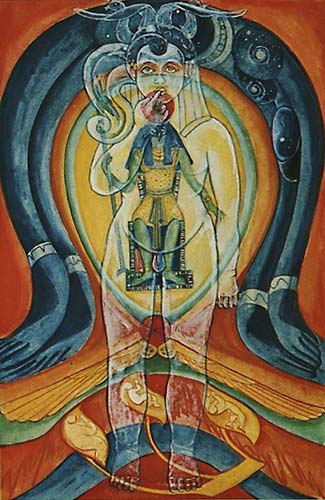 The Aeon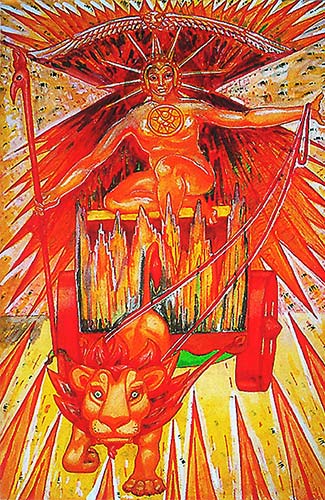 do3card

Leo

The moral qualities appropriate to this figure are swiftness and strength. But he is sometimes inclined to act on impulse; sometimes easily led by external influences; sometimes, especially in trifles, a prey to indecision. He is often violent, especially in the expression of an opinion, but he does not necessarily hold the opinion about which he is so emphatic. He states a vigorous proposition for the sake of stating it. He is in fact very slow to make up his mind thoroughly on any subject, but always sees both sides of every question. He is essentially just, but always feels that justice is not to be attained in the intellectual world. His character is intensely noble and generous.

He may be an extravagant boaster, while slyly laughing both at the object of his boast and at himself for making it. One of his greatest faults is pride; meanness and pettiness of any kind he holds in infinite scorn. His courage is fanatically strong, and his endurance indefatigable. He is always fighting against odds, and always wins in the long – the very long-run. This is principally due to his enormous capacity for work, which he exercises for its own sake, 'without lust of result'.