Blind Spot Spread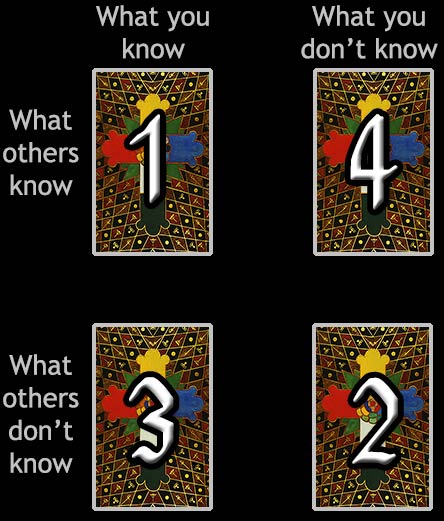 Difficulty: varies
This spread is used to enhance self-awareness. Questions about learning something about yourself or things that are hidden work very well with this spread, but actually no question is necessary.
This card displays the obvious identity, the part of your self that you are consciously aware of and project to others.
This card shows unconscious driving forces that neither you nor others are aware of about you. This is the Great Unknown. Nobody knows what this card means.
The part of yourself that you conceal, that you don't want others to know about is apparent in this card.
This is your Blind Spot. This is what you asked about which you should be made aware of by this reading. You may wish to pay close attention to these mannerisms.
Your Blind Spot Reading
| | | |
| --- | --- | --- |
| | What you know | What you don't know |
| What others know | 8 of Cups | The Sun |
| | | |
| What others don't know | Prince of Wands | Knight of Cups |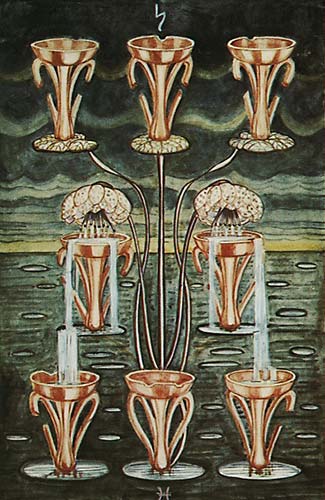 This card displays your obvious identity, the part of you that everyone knows.

8 of Cups

Saturn in Pisces - Indolence

Lotuses droop for lack of sun and rain, and the soil is poison to them; only two of the stems show blossoms at all. The cups are shallow, old and broken. They are arranged in three rows; of these the upper row of three is quite empty. Water trickles from the two flowers into the two central cups, and they drip into the two lowest without filling them. The background of the card shows pools, or lagoons, in very extensive country, incapable of cultivation; only disease and miasmatic poison can flourish in those vast Bad Lands. The water is dark and muddy. On the horizon is a pallid, yellowish light, weighed down by leaden clouds of indigo.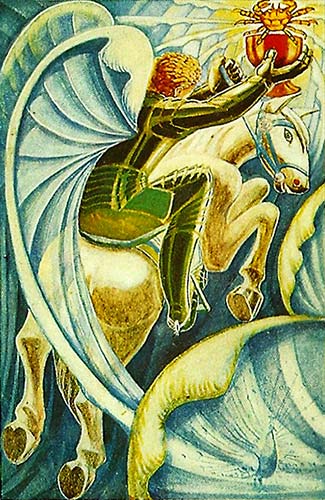 This card shows unconscious driving forces that neither you nor your company is aware of about you. This is the Great Unknown.

Knight of Cups

Pisces

The Knight of Cups represents the fiery part of Water, the swift passionate attack of rain and springs; more intimately, Water's power of solution. He is clothed in black armour furnished with bright wings which, together with the leaping attitude of his white charger, indicates that he represents the most active aspect of Water. In his right hand he bears a cup from which issues a crab, the cardinal sign of Water, for aggressiveness. His totem is the peacock, for one of the stigmata of water in its most active form is brilliance. There is here also some reference to the phenomena of fluorescence.

The characteristics of the person signified by this card are nevertheless mostly passive, in accordance with the Zodiacal attribution. He is graceful, dilettante, with the qualties of Venus, or a weak Jupiter. He is amiable in a passive way. He is quick to respond to attraction, and easily becomes enthusiastic under such stimulus; but he is not very enduring. He is exceedingly sensitive to external in fluence, but with no material depth in his character.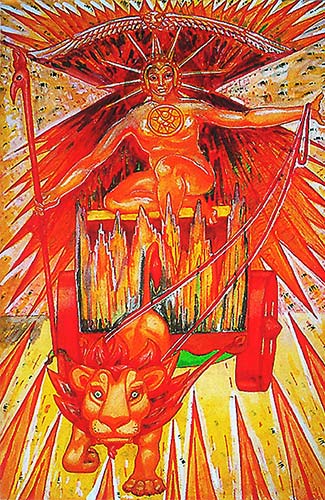 The secrets you keep from others are shown by this card.

Prince of Wands

Leo

The moral qualities appropriate to this figure are swiftness and strength. But he is sometimes inclined to act on impulse; sometimes easily led by external influences; sometimes, especially in trifles, a prey to indecision. He is often violent, especially in the expression of an opinion, but he does not necessarily hold the opinion about which he is so emphatic. He states a vigorous proposition for the sake of stating it. He is in fact very slow to make up his mind thoroughly on any subject, but always sees both sides of every question. He is essentially just, but always feels that justice is not to be attained in the intellectual world. His character is intensely noble and generous.

He may be an extravagant boaster, while slyly laughing both at the object of his boast and at himself for making it. One of his greatest faults is pride; meanness and pettiness of any kind he holds in infinite scorn. His courage is fanatically strong, and his endurance indefatigable. He is always fighting against odds, and always wins in the long - the very long-run. This is principally due to his enormous capacity for work, which he exercises for its own sake, "without lust of result".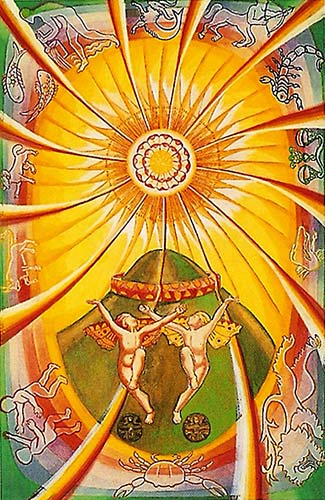 This is your Blind Spot. This is what you asked about - what you wished to be made aware of by this reading.

The Sun

The Sun

Give forth thy light to all without doubt; the clouds and shadows are no matter for thee. Make Speech and Silence, Energy and Stillness, twin forms of thy play.

Glory, gain, riches, triumph, pleasure, frankness, truth, shame-lessness, arrogance, vanity, manifestation, recovery from sickness, but sometimes sudden death.